Vorapong Iamtrakul - Charoen Pokphand Foods - on why Practical Work Culture & Long-term Relationships are Key to Driving Progress
Very few organisations can work on the ground and in detail like the Seafood Task Force, says Vorapong Iamtrakul, Director for Sustainability at Charoen Pokphand (CP) Foods and recently-appointed Board Member with STF. Its practical work culture and long-term relationships are driving progress.
Driving supply chain sustainability is crucial, not only for our company's supply chain, but also for the country overall. 
As a company engaged in trade with customers worldwide, we must adhere to international standards and assessments. We are committed to sharing our experiences with the Seafood Task Force to develop improvement programmes or assessments, and we utilize our integrated units, including feed, farm, and processing plants, for STF trial projects. The ultimate goal is to create a more traceable and transparent product in the supply chain.
Image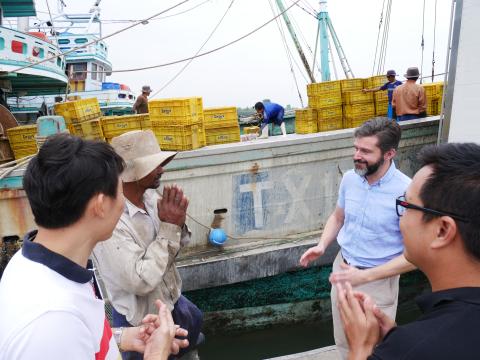 Very few organizations can work on the ground and in detail like STF, mainly because the Task Force has established long-term collaborations and relationships with key stakeholders, including governments in various departments and associations throughout the supply chain. This fosters a work culture that is practical and aligned with field realities. 
The STF also comprises major players from different fields, not only big retailers from the US and EU, but also major producers in Thailand and well-known non-profit organizations. This diverse membership allows for the formulation of policies and implementations that reflect the perspectives and inputs of key players throughout the entire supply chain. 
Our focus is to assist STF in developing the right policies and implementations and leverage our relationships to strengthen collaboration with key stakeholders, especially government bodies such as the Department of Fisheries, Department of Labor and the top levels of the Council of Ministers' Cabinet. 
This will enable us to advise and implement best practices in areas related to social, environmental, and traceability issues, ensuring that government practices align with STF standards. Ultimately, this collaboration will help elevate Thai fishery practices to meet global standards.
The main challenge we face is the market. As long as products can be purchased at a better price, sustainability becomes a secondary concern. This situation puts players and regions that have invested considerable effort in improving sustainability at a disadvantage.
We need to create differentiation, either through buyer acceptance worldwide, or through governments providing privileged conditions for those who follow STF practices, leading to significant improvements in social, environmental, and traceability issues. If this differentiation occurs, it will add further value to STF and attract the attention of companies worldwide to participate as members. 
We firmly believe that market drive is the key to success. STF's journey has demonstrated visible progress along the way and if buyers prioritize suppliers and producers who adhere to STF standards, it would be an effective way to ensure continuity and sustainability.
We know that the STF and its members are aware that this is a long journey. From the inception of STF until now, we have witnessed successes and as long as we have a clear goal to drive supply chain oversight and implement a continuous improvement programme for the seafood industry, providing confidence to retailers and brands in their trading practices, we will be on the right track. Let's not allow the pursuit of perfection to hinder our progress.
Achieving success requires collaboration from all sectors. It is much better to have ideological friends who want to develop and standardize the seafood industry walking with you along the way, instead of traveling alone.
Charoen Pokphand (CP) Foods is the world's largest producer of shrimp and feed. Based in Thailand it is part of the Charoen Pokphand Group, Thailand's largest private company which operates across 22 countries worldwide.
The views in this article are those of the author and do not necessarily represent the views of the STF.